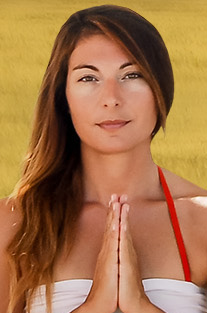 Debora is the founder of MOUNA AERIAL YOGA and has been pioneer in introducing Aerial Yoga in Switzerland. She has created her own Aerial Yoga Teacher Training several years ago, offering one of the most complete and comprehensive Aerial Yoga Trainings in Europe, focusing on the Yoga Aspect and integrating the Yoga Philosophy and Sequencing Principles into the Teaching. During the last years, she has instructed many Yoga Teachers from all over Europe and has contributed in the development of Aerial Yoga in Switzerland. She has been in the media with articles about Aerial Yoga, like the Yoga Magazine and the Zürichsee Zeitung. Besides Aerial Yoga, Debora also teaches Hatha Yoga, Vinyasa Yoga, Pranayama, Meditation and Yoga Philosophy. She is trained in Anusara Yoga and has enriched her Hatha Yoga and Aerial Yoga Practice by integrating the Alignment Principles of the Anusara Yoga Style.
Together with the Teacher Training Director Matthias Brun, Debora has instructed Vinyasa Yoga, Pranayama and Yoga Philosophy of the Yoga Alliance 200 Hours Teacher Training at the SAFS (Swiss Academy of Fitness and Sport) in Zurich.
In all Yoga Styles Debora aims to connect you with your inner Spirit. This in order to unfold your potential, which wants to be recognized, explored and lived in this life.